Never worry about losing your projects, tasks, and comments. If you're a Pro or Business user, your Todoist automatically creates backup files for the active tasks in all of your current projects. You can easily restore a project at any time.
Backups are only generated from the day your account is upgraded from a free account to a Pro or Business account.
Therefore, if you delete a project while using the free version of Todoist and then afterward upgrade to Pro or Business, you won't be able to find that project in your backups.
Downloading a backup
If you've enabled multi-factor authentication for your account, you will need to get a code from your authentication app in order to download a backup.
Learn more
.
Click your avatar in the top-right corner of your Todoist.
Click Settings.
Open the Backups tab.
Click download next to any of the daily automatic backups. This will start a download for a ZIP file containing CSV files for each of your current projects including all active tasks (completed tasks and archived projects are not included).
Extract the contents of the ZIP file.
Backups can only be accessed via web, macOS, or Windows 10/11 apps.
When downloading a backup, the start date of a recurring due date will not be saved in the backup. As an example, if you have a task with the recurring due date every year starting January 31 and you then export and import a backup, the task's due date will be changed to every year.
You can also click + Create Backup at the top of your backups tab to manually create a backup of all of your active projects.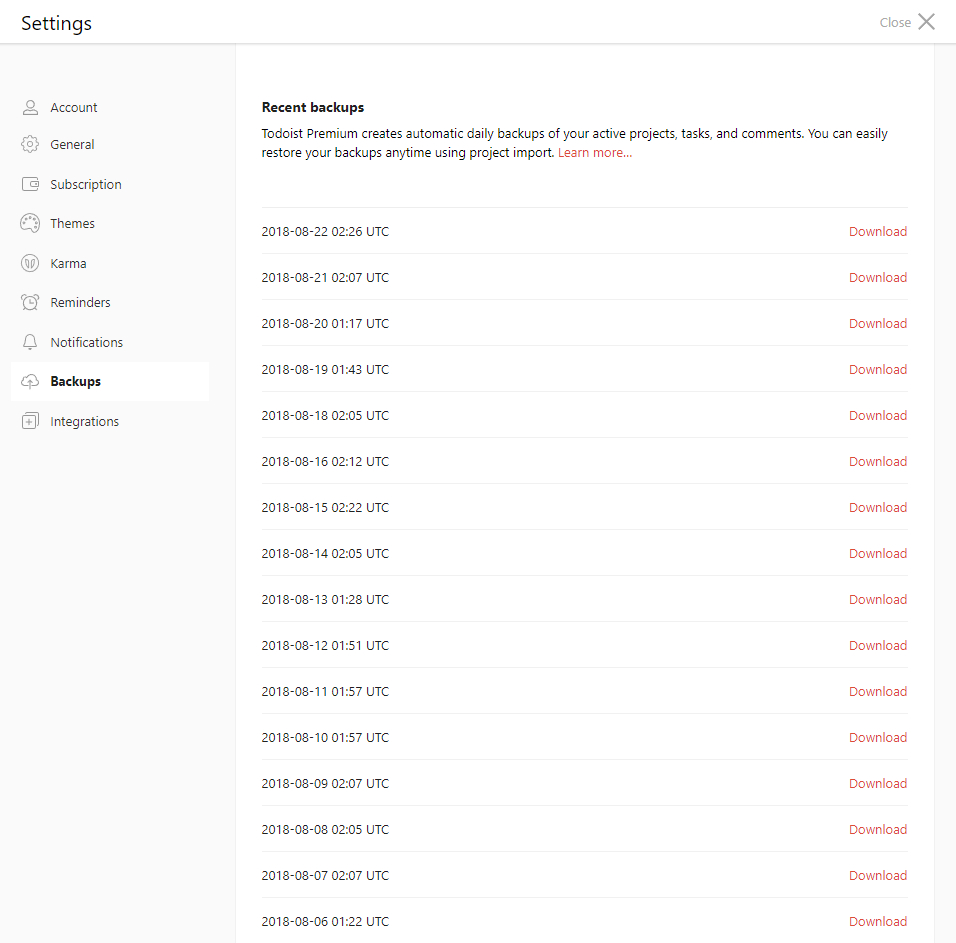 Restoring a backup
Create a new project.
In the top-right corner, click on the three dots icon.
Select Import from template.
Choose (or drag and drop) the CSV file from the folder where you extracted the ZIP that corresponds to the project you want to restore.
Backups can only be restored via web, macOS, or Windows 10/11 apps.
All the active tasks, due dates, comments, and files from the backed up project will be added to the new project.
All of your data is safe and secure. You can read our full data security policy for more details.
FAQ
I have accidentally deleted a project and I'm on the free plan. Can I upgrade to Pro or Business to access a backup and restore it?
Unfortunately, that's not possible. Backups are only created from the day an account is upgraded to Pro or Business.
Is there a maximum amount of backups that can be created and stored?
Yes, you can store up to 21 backups on your account. Backups are automatically created daily and correspond to the last 21 days, older backups are overwritten and deleted.
How many comments can be stored in a backup?
Backups can store up to 500 comments per task.
How often does Todoist create a new backup?
Backups are created once a day on days that you've logged in to your Todoist and made any changes.