The Outlook extension only works on Windows. Sorry for the inconvenience caused!
If you're having trouble with the Outlook add-in, try some of the solutions provided below.
What are the requirements for running the add-in?
Todoist for Outlook will only work in Outlook 2007 or higher and only supports 32-bit Outlook.
The add-in is appearing outside or on the wrong side of Outlook. How can I fix this?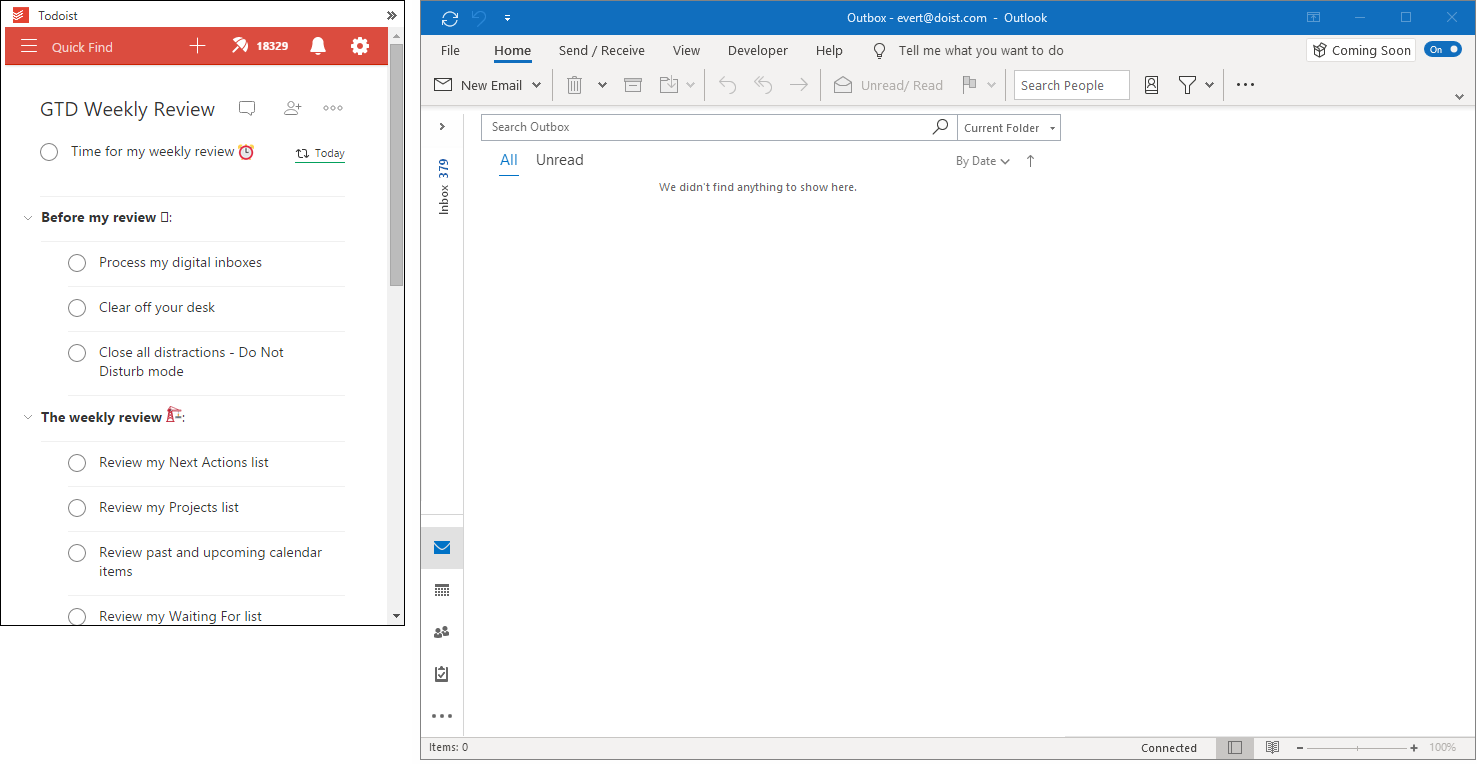 To make sure the add-in shows up on the right side of Outlook, you may need to turn on the Optimize for compatibility setting:
In Outlook, go to File → Options → General → User Interface options → select Optimize for compatibility → click OK → restart Outlook.
I've installed the add-in, but it doesn't show up in Outlook. What should I do?
Here are a few tips that might help you get Todoist for Outlook up and running:
Try removing and re-adding the add-in:

Go to Outlook's Options → Add-ins → next to "COM Add-ins", click on Go.
Select OutlookTodoistADX and click the Remove button.
Next, click the Add button.

Paste this location in the address bar: C:\Users\%userprofile%\AppData\Local\OutlookTodoistADX\

Select the adxloader.dll file and click OK.

Clear your add-in cache in C:\Users\%userprofile%\AppData\Local\Todoist\Outlook\ (default folder). You can simply delete all the contents of this folder as it will be just recreated once you log in again.
Uninstall and reinstall the Todoist for Outlook add-in.
If the add-in causes Outlook to crash, disable other add-ins to identify if a conflict is causing the problem.
I'm getting a white, empty panel where the add-in should be. What can I do to fix it?
Here are a few things you can try:
Try changing your proxy settings if the default Windows proxy settings don't apply - incorrect proxy settings prevent the add-in from loading.
Check with IT for any firewall/VPN restrictions that would block todoist.* or cloudfront.* – however, if Todoist works in the web, this shouldn't be the case.
Check if you're in an Active Directory environment and running Group Policy. If so, you would need to set the following files to Unrestricted: adxregistrator.exe and Todoist.Helper.exe.
As a test, disable any anti-malware software that's running and see if that allows the add-in to load.
Disable all other add-ins to identify if this problem is caused by a conflict with other add-ins.
Try installing an older version of the add-in.
When I click an Outlook-based task on Todoist for web or mobile, it won't go anywhere. Why is nothing happening?
Outlook-based email tasks can only be accessed from the Outlook add-in, not anywhere else.
If you want to access the content of your emails on all platforms, try forwarding emails instead.
Sometimes I click an email link but it doesn't access properly, or the add-in searches forever.
If you've moved the linked email out of the folder which it was in when creating the task, then the link has become invalid and you won't be able to use it anymore. If this is the case, you can create a new task from the email's new location (and you may also want to delete the old task with the broken link).
Why can't I uninstall the Todoist for Outlook add-in?
This could be caused by programs running in the background, here are a few ways to fix this:
Close Outlook and check the Task Manager to ensure that all instances of Todoist processes are ended. Next, try to uninstall the add-in.
Restart your computer into safe mode and then uninstall the add-in via the Windows Control Panel → Programs → Programs and Features.
Try installing the add-in again and then attempt to uninstall it via the Windows Control Panel → Programs → Programs and Features.
Related search terms: Outlook issue; Outlook issues; AdxTaskPane; Outlook pane, Outlook v1808