Shortcut Update: Aug 11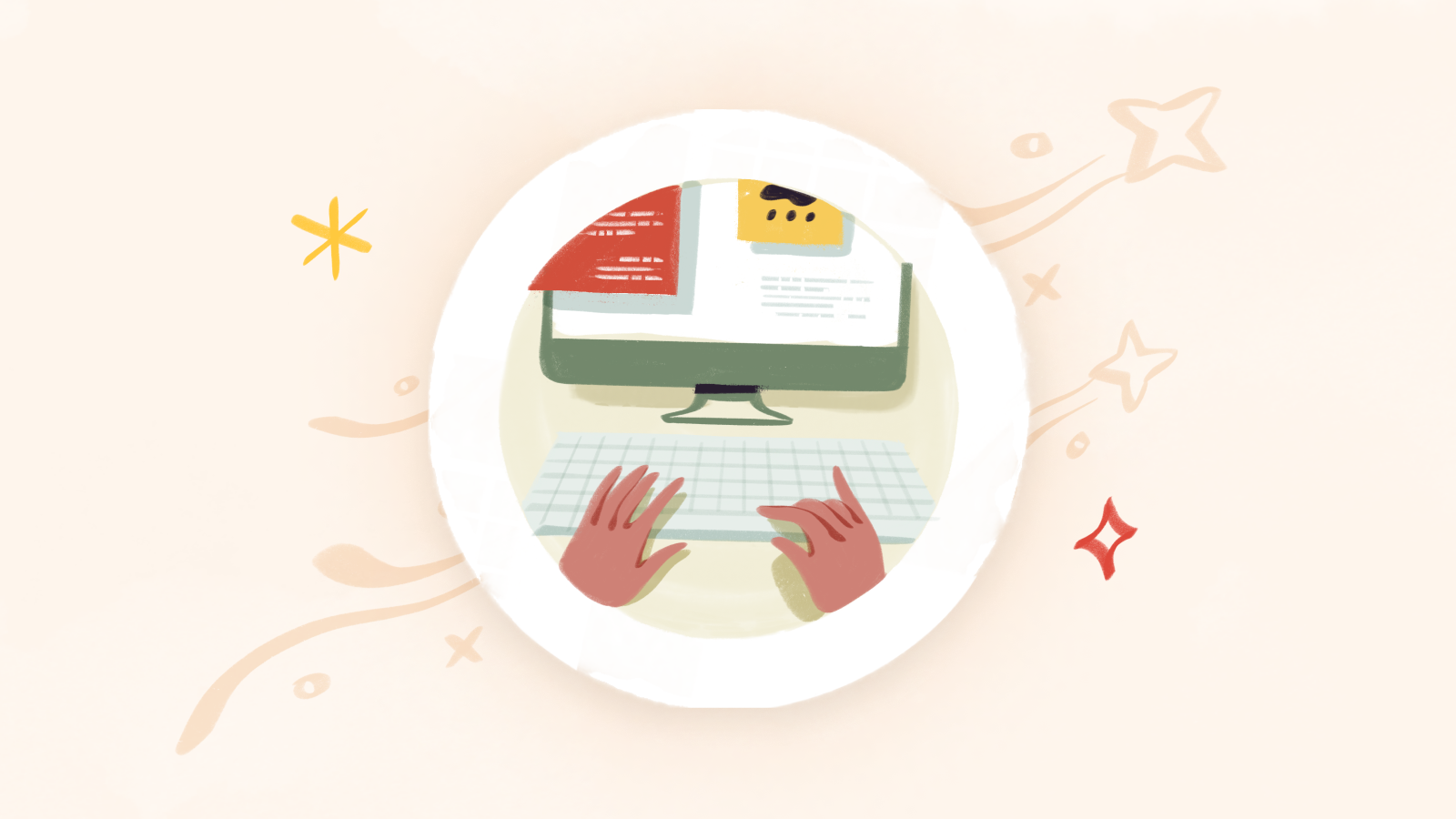 Indenting sub-tasks just got super speedy! While editing your task, use the keyboard shortcut ⌘/Ctrl + ] to indent and ⌘/Ctrl + [ to unindent. Full sub-task control at your fingertips. 🚀
Do you use task management with your team? We would love to chat with you. If you'd like to talk with us,
fill in this form
, and we'll be in touch.
⚙️ Plus Improvements
Do you like receiving an alert email when there's a new login to your Todoist? If it's not your favorite thing, you can now toggle this off by going to Settings > Notifications > New Login Alert.
🐛 Minus web and desktop bugs
You can drag and drop your attachments to tasks again without the pesky error message.
If you noticed your shared project collaborator count was +1, you didn't have a spooky visitor. 👻 We just needed to improve our math. That's fixed now!
If you were having trouble opening completed tasks, that's back to working as expected.
Every! X hours command was recently fixed, but this broke every X hours when the task date was overdue. Not the intended domino effect, so it's fixed.
🐛 Minus iOS bugs
The ability to add a sub-task did a disappearing act when you completed all other sub-tasks. That unhelpful bug was duly squashed.
You can once again tap-hold a task to both assign and unassign it.
🐛 Minus Android bugs
If the numbers in your sub-task counter looked a little off, that's because they were. But that's been fixed now.
You can once again list your tasks alphabetically by choosing Sort by name from the sorting options.
Un-assigning a task when sorting is enabled will no longer cause the Android app to crash. 😬
🔢 Versions
Latest versions at the time of publishing:
Web 2348; iOS 22.8.4; Android v10202; Android Wear w10161; Windows 1.0.8; Linux 1.0.1; macOS 8.0.7
Freshened Up: July 28 🧼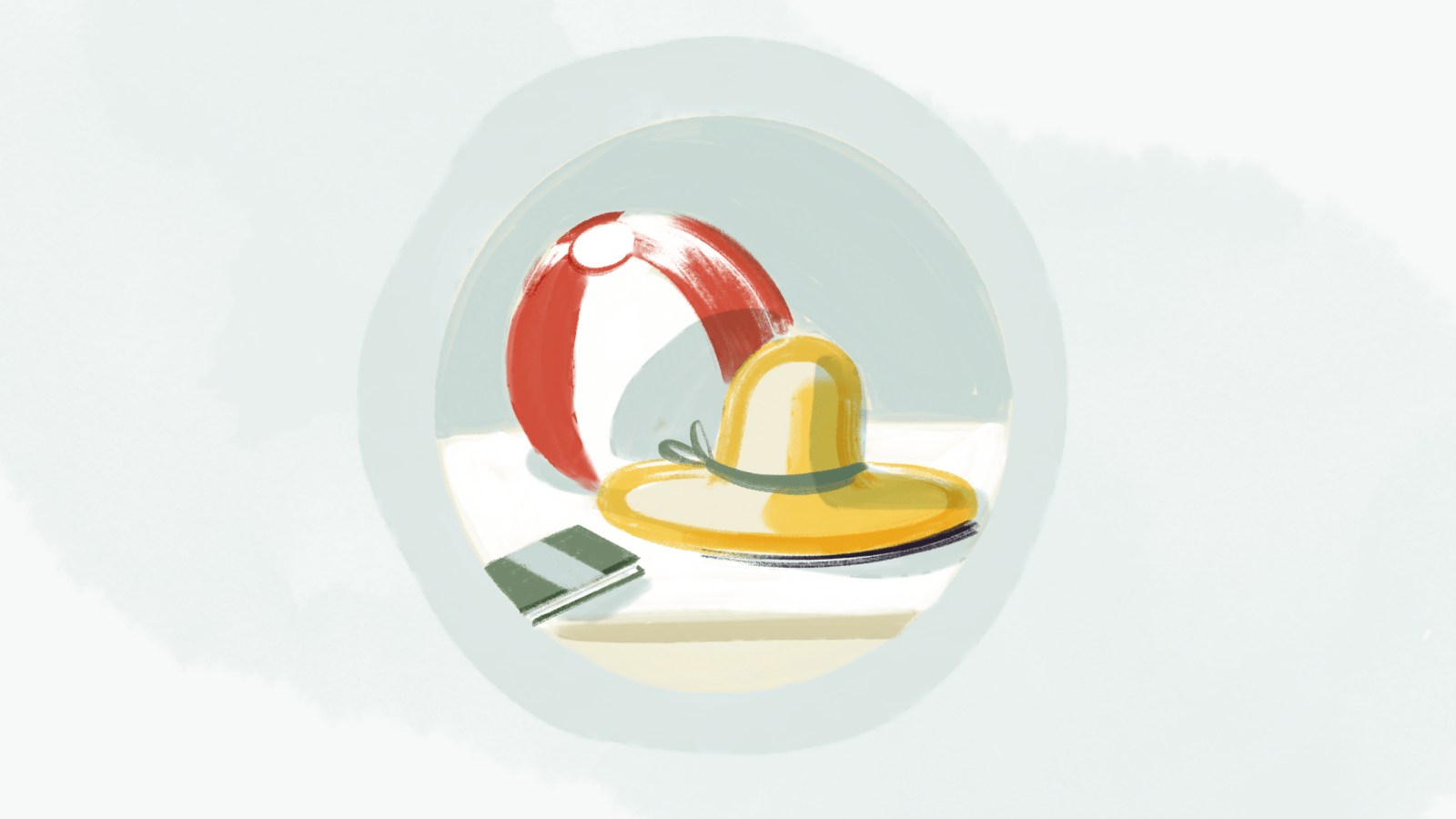 A few bug fixes here, some little updates there, and your Todoist is back to looking fresh and feeling fine.
🐛 Minus web and desktop bugs
You can once again bold an entire task by adding ** to both sides of the task name. (eg. **Create accounting spreadsheet** becomes Create accounting spreadsheet.)
If you were having trouble adding sub-tasks within sections, that bug has now been squashed. 🎉
🐛 Minus iOS bugs
Hidden sub-tasks will stay hidden (until you choose to show them again).
You may have had a bonus blank task added to your project when using voice dictation. Not the most helpful type of bonus, agreed. That's now fixed!
🐛 Minus Android bugs
You can delete a task from the widget once again without getting stuck on a load screen loop.
Reordering subtasks looked a little glitchy, but that's back to running smoothly now.
When you complete a task in the notification center, the notification will now disappear. Instead of hanging around reminding you of that thing you just did.
Reminders are working on Android Wear once again.⏰
🔢 Versions
Latest versions at the time of publishing:
Web 2301; iOS 22.7.17; Android v10010; Android Wear w9969; Windows 1.0.8; Linux 1.0.1; macOS 8.0.7
Back By Popular Demand: July 14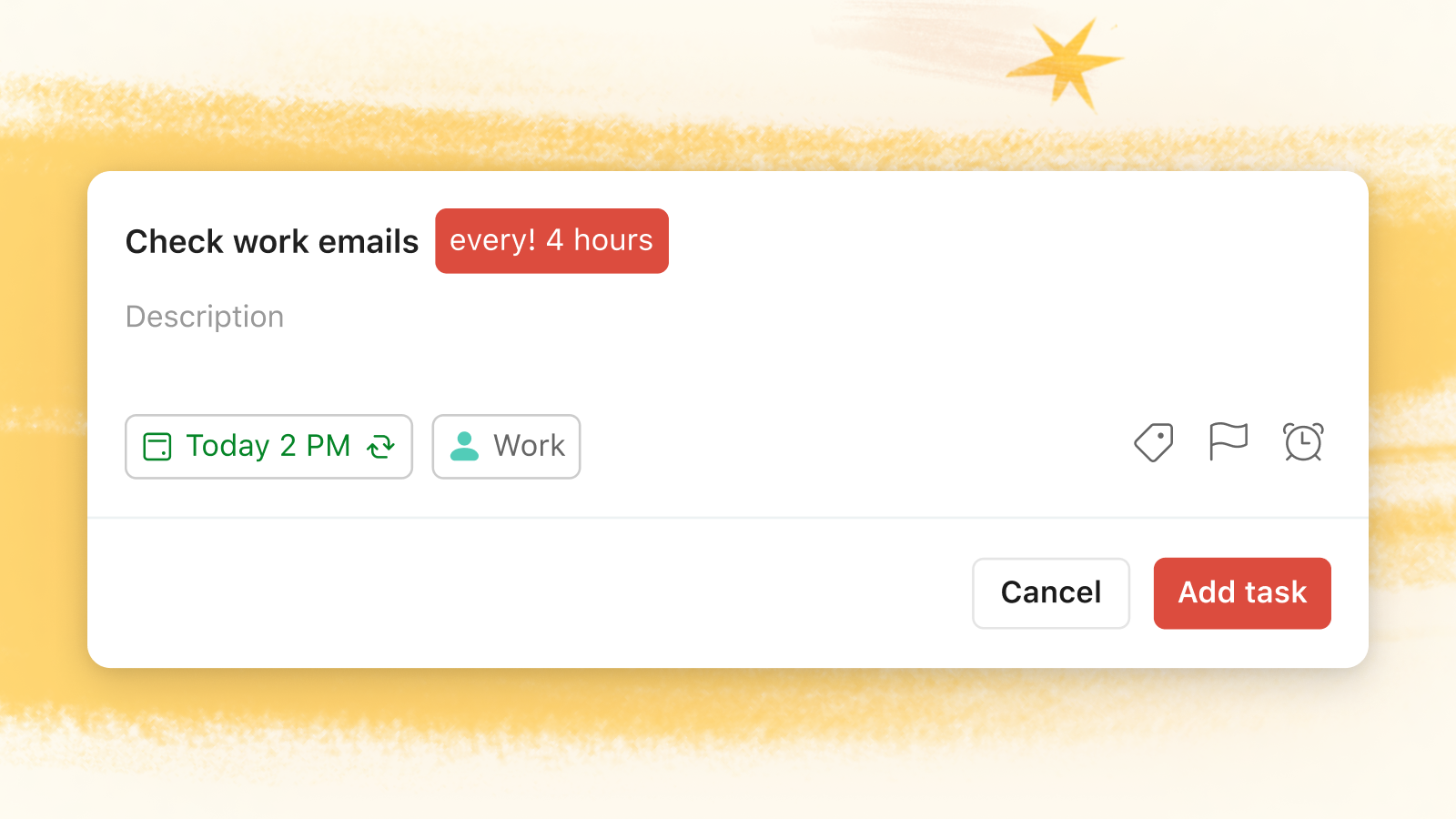 We thought it was the result of a bug, but you told us it was actually a handy feature. So, we're now supporting every! x hour task recurrence!
Perfect if you want a task to recur a set amount of hours from when it was last completed (e.g., taking medication, walking the dog, checking work emails, etc.) Currently available on the web app and iOS, with Android following soon.
⚙️ Plus improvements
Accidentally added 'Everyone' to a comment notification? You can now remove 'Everyone' with one click. Backtracking just got way more efficient.
Some fixes have been made to email notifications, so if you were having trouble with them, you should notice they're sending reliably once again. 💌
🐛 Minus web and desktop bugs
The E shortcut for completing tasks now works in the new task view. You can get back to complete keyboard control.
Within a section, when adding a task above or below another task, the order of tasks got a little scrambled. No longer! Your task will stay exactly where you want it.
Keyboard shortcuts to move tasks up/down (⌘↑/⌘↓) didn't work in board view, but that bug has been banished. 🙅‍♀️
🐛 Minus iOS bugs
When editing a task, the # shortcut created a label rather than a project. That was confusing and not what you expected, so we fixed it.
Your task count for Today view will now consistently show the right number of due tasks.
🐛 Minus Android bugs
Selecting the task breadcrumbs will now give you Go to... options. A vast improvement on the nothing it did before this fix.
Filters are once again working in Chinese languages on Android!
Sync has been tweaked, so you can get back to working seamlessly between all apps.
When selecting a task, the option to add a task above/below by selecting the three dots menu did a disappearing act. That's now back where it belongs. ✨
🔢 Versions
Latest versions at the time of publishing:
Web 2257; iOS 22.7.0; Android v10010; Android Wear w9969; Windows 1.0.8; Linux 1.0.1; macOS 8.0.7